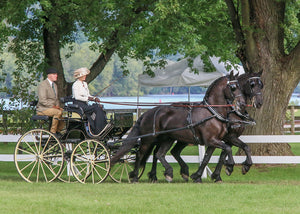 True competition vehicles, our elegant presentation carriages are at home in the dressage arena or the pleasure show ring.  They are distinguished by high-quality workmanship and durable construction, which allows for their efficient use for many years.

Spider series carriages have a more open structure with widely spaced wheels and a dickey seat for a groom.  They are a modern version of the historic Spider Phaeton.  The Spider is available from small pony pair to pony, cob, and horse singles, to large horse pair.
The Break Sport series is a larger, heavier, historically-patterned carriage originally designed for breaking horses.  True to form, the Break does not include a front dash.  It is appropriate for large pony and cob pairs, large horse singles and pairs, and drafts.  

All base model vehicles are fully driveable. Click on the carriage names below to learn what is standard equipment.  Typical Presentation Carriage options are here.
---
Sorry, there are no products in this collection.