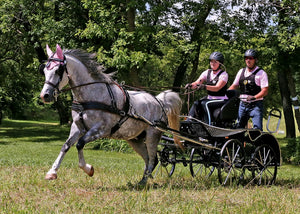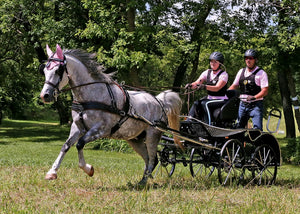 We offer top quality, competitively priced marathon carriages suitable for training, competition, and recreation.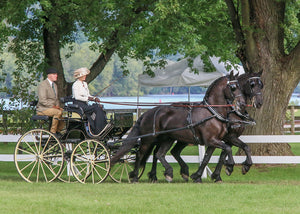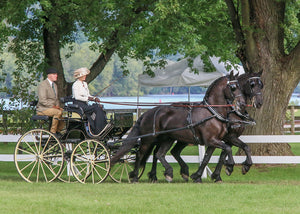 Our elegant presentation carriages are at home in the dressage arena, or the pleasure show ring.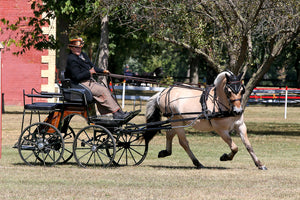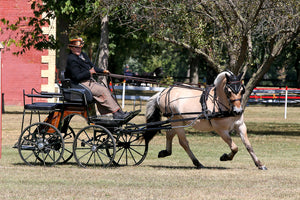 Our training carriages are well-suited for daily work, comfortable recreational driving, lower level CDEs, or crossing over into pleasure driving competitions.
Whether your goal is to drive at the World Championships, your local competition, or just drive around the neighborhood and trails, our European vehicles will provide quiet, dependable, long-lasting service for years to come!
Selecting Your Carriage
Need help choosing which style vehicle will best suit your needs?
Learn More
Poj-Kon Horse Carriages
Features & Benefits
Why choose a Poj-Kon from Midwest Custom Carriages?
Learn More
Midwest Custom Carriages LLC is a joining of Chad and Myrna Rhinehart, owners of IVC Carriage (Carriage Driving Equipment), and John Freiburger, owner of Hickory Knoll Farm. Both families have had a long history with carriage driving, This experience allows us to guide and advise you to find the right vehicle, matching your needs, budget, and goals the first time.
★★★★★

"Customer service is so important and you both exceeded expectations. Thanks for helping me get the carriage setup and for delivery of the shackles. "
★★★★★

"You were right. If I like driving my carriage, I will drive more. I drive everyday now!"
★★★★★

"My pony drives so much better in her MCC carriage! She is comfortable and so am I!"
★★★★★

"Cody loves working hitched to his Falcon [Lightning]. My MCC carriage is quite smooth and reliable. I use it for everything."